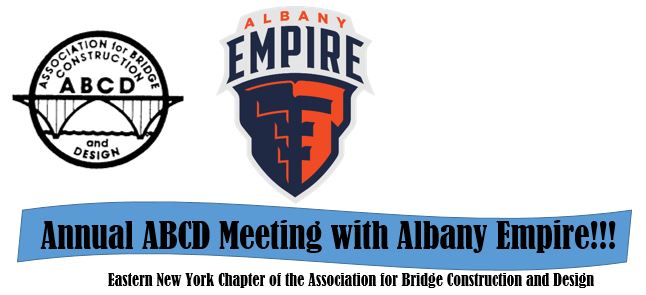 SAVE THE DATE!!
June 2018 Annual Membership Meeting
When: Saturday June 16, 2018
Time: Game starts at 6pm (full schedule to follow with formal meeting announcement)
Where: 51 S. Pearl Street, Albany, NY 12207 - (The Times Union Center)
Price: $55 per person (includes game ticket, dinner, and drink).
Details: ABCD has reserved the Lia Lounge Private Game Suite in the lower level of The Times Union Center for our annual membership meeting!!! Your ticket will include entrance to the game, attendance for the 2017 Bridge Award, a full dinner (salad, vegetable, main meal, side dish) and drinks (soda/water).
Reservations: Reservations can be made to Mark Olstad once the formal meeting announcement is sent out to the membership during the first week of June.
Eastern NY ABCD
AECOM
This email address is being protected from spambots. You need JavaScript enabled to view it.
40 British American Boulevard
Latham, NY, 12110
(518) 951-2323